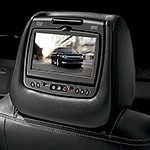 The Ford Flex is a popular 7-passenger vehicle. It has the ability to tow over 2,000 pounds. There are also technology features that will make it safer and easier for you to drive. The vehicle has Rear View Camera with Backup Assist Grid. It will give you a great view of everything that is behind you. All you have to do is keep the camera lens clean.
The Ford Flex also has BLIS with cross-traffic alert. It will let you know when there is a car in your blind spot. If someone is in your blind spot, then you will receive an alert. Not only will you get an audible warning, but you will also receive a visual alert. The indicator lights on the side of your windows will start to flash.
You should try out the features while test driving the Ford Flex. You can go to the dealership today to try out the vehicle.